Wednesday, April 29, 2020
6:00 p.m.
Sandy Beach, Calgary AB
We're trying something different and having our trail race on a mid week evening! Your race entry fee includes a tri blend t-shirt, finishers medal, post race meal and $5 beer.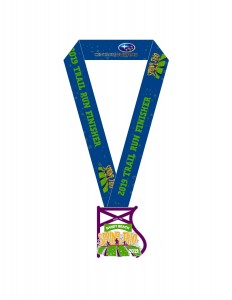 With three distances, this is a sister race to Spring Trio 5/10/15km, otherwise known as the run the bridges version. Choose from the 3 km, 5 km or 8 km trail distance. The 3km is a great intro to trail running if you're new to the trail. Single track and elevation for all three distances with more of both the further you go. Don't miss out on this fun mid week trail race within city limits.
Finishers medals for everybody. If you do Spring Trio and Spring Trio Trail, you'll find that your medals fit together. People doing both races will also receive an extra "double header" swag item.
There will be medals for the top three men and women under 40 and 40+ in each distance.
Click here for race day participant info including parking and course marking.
Package pick up is at Gord's Running Store (919 Centre St N) on Saturday, April 18 from 10:30 a.m. – 4:30 p.m. This is also the package pick up for Spring Trio 5/10/15 km. If you register for Spring Trio Trail after these package pick up times, you will pick up on race day at Sandy Beach.