Now that Alberta has moved into stage 2 of reopening on June 10, we can say with confidence that we will be hosting this event on August 3! Even if we're still in stage 2, outdoor sport is allowed without restrictions within the field of play. So, we may still need you to be distant when arriving and leaving and we may not be able to socialize afterwards but we'll be able to race quite "normally". It's expected that we'll move into stage 3 by early July which means no restrictions and we can bring back our beer garden, post race food and awards! We can't wait to see you all! We may even call this one the Vaccine Trio this year because it's thanks to vaccines that we'll be able to gather again.
Join us for this unique mid week, evening, urban trail run! Your race entry fee includes finishers medals, a t-shirt and post race food.
With three distances, this is a sister race to Spring Trio 5/10/15km, otherwise known as the run the bridges version. Choose from the 3 km, 5 km or 8 km trail distance. The 3km is a great intro to trail running if you're new to the trail. Single track and elevation for all three distances with more of both the further you go. Don't miss out on this fun mid week trail race within city limits.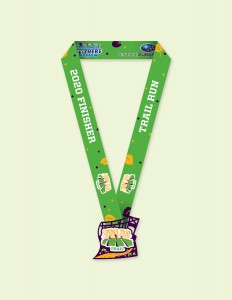 Finishers medals for everybody. People doing both races will also receive an extra "double header" swag item.
Package pick up will be in conjunction with Spring Trio Run the Bridges package pick up.
Please note: race registration fees are non-refundable and non-transferrable. You will be given the option to purchase cancellation insurance when you register online. You can transfer your own registration between distances.