August 24, 2020
6:00 p.m.
Sandy Beach, Calgary AB
Registration is open.
We are being permitted to host this event on August 24, 2020. And we're calling it Sprung Trio this year because it feels like we've been "sprung" free to have a run! Of course, we will be following protocols put in place to abide by provincial guidelines around Covid-19. We will be updating information as things evolve and we get closer to the day but here are a few of the things you can expect:
You will choose a window of time for package pick up and will only be allowed to collect your package at that time.
You will be starting in small groups with one person starting every 10 seconds.
Markers will be on the ground to indicate where you will stand before starting in order to maintain distance.
The start and finish line will be in different locations in the park.
When running, you must maintain physical distancing and call out when you're passing another athlete.
The finish line will be separated into two sides.
You will be encouraged to depart shortly after finishing.
A pre event screening questionnaire will be sent to all athletes.
You will be required to acknowledge that you have read all of the race information including Covid protocols.
Join us for this unique mid week, evening, urban trail run! Your race entry fee includes fun swag.
With three distances, this is a sister race to Spring Trio 5/10/15km, otherwise known as the run the bridges version. Choose from the 3 km, 5 km or 8 km trail distance. The 3km is a great intro to trail running if you're new to the trail. Single track and elevation for all three distances with more of both the further you go. Don't miss out on this fun mid week trail race within city limits.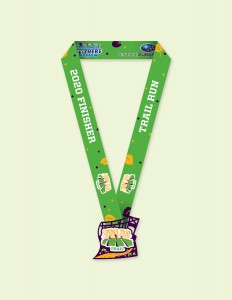 Finishers medals for everybody. If you do Spring Trio and Spring Trio Trail, you'll find that your medals fit together. People doing both races will also receive an extra "double header" swag item.
Click here for race day participant info including parking and course marking.
Package pick up details will be announced shortly.
Please note: race registration fees are non-refundable and non-transferrable. You will be given the option to purchase cancellation insurance when you register online. You can transfer your own registration between distances.