Saturday, June 24, 2023


Click here to register


Starting at 9:00 AM October 1

Registration will open October 1 with Tier one pricing. We expect first tier pricing to sell out very quickly so register early. Special K-100 room rates at the Pomeroy Kananaskis Mountain Lodge will also be available in October and will be available on a first come, first served basis.
Congratulations to everybody who participated in K-100 on June 25, 2022. After a lot of last minute pivoting due to bear activity and trail closures, we had an amazing day with perfect weather and the best post race party. We didn't do formal result on Saturday so would like to announce the following winners:
OPEN: 10% Recruiting Running Room Men. This means the naked man trophy will live in Edmonton for a year! Mito will be fighting hard to bring it back to Calgary in 2023.
CORPORATE: Morgan Stanley wins for the first time.
LEGAL: Bennett Jones reclaims the trophy.
MIXED: Whose Idea Was This wins it in memory of Tony Lambert.
WOMEN: Nissen Patent Law Running Room Ladies takes the trophy back to Edmonton
IAN ANDERSON MEMORIAL TROPHY: We also presented the Ian Anderson memorial trophy for the first time since 2019. In case you missed it on Saturday, we award this trophy to somebody who epitomizes community, compassion and generosity in the running community. This year the trophy was awarded to Jeremy Deere. On top of being an excellent runner himself (not a requirement for the trophy), Jeremy is always giving back. He sponsors and attends every track meet in Calgary. He supports young, talented new immigrant athletes. You'll find sponsoring many races in Calgary and he's usually also there helping out. All of this with constant good humour and a smile. Oh, ya, he also owns Strides Running Store.
We're excited to officially welcome our new sponsor, the Pomeroy Kananaskis Mountain Lodge, who are hosting our new finish line and post race experience! Leg 9 & 10 will both finish in the village centre beside Rocky's with plenty of indoor and outdoor space to enjoy your meal, your stories from the day and maybe an adult beverage or two.  Please click here for a map of the new finish area.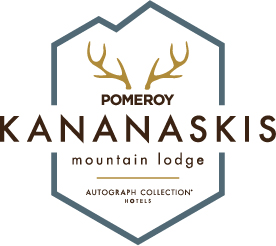 What's included?
A one of a kind run over the highest paved road in the country. No other running events of this type are permitted in the park.
Friday night pre-race dinner in Longview (RSVP required).
Race day morning coffee and snacks in Longview.
An "unplugged" day of running with your friends, family, colleagues.
The best team building opportunity around!
Post race meal at the Pomeroy Kananaskis Mountain Lodge
A great after party with Tool Shed beer and chef's post race food creations.
Preferred rates at the Pomeroy (booking details to come in October)
T-shirts.
The 100 mile course begins among the rolling hills of Longview in south western Alberta. At 6:00 a.m. the first heat of leg one runners will make their way along highway 541 towards the majestic Rocky Mountains. The course traverses the Highwood Pass on the highest paved highway in Canada and takes you into the Kananaskis Valley. Leg nine and ten runners will travel cross-country to finish in Kananaskis Village.
Forced starts will occur for slower teams to complete the course in 14 hours. If your predicted overall time is over 16 hours, we may have to do some simultaneous forced starts. Please contact the race office if you will be longer than 16 hours. 16+ hour teams are welcome, we just have to be sure we can get you finished within our daylight time window.
Please read all of the race rules carefully. Examples of a race day team plan will be posted in the new year to aid you in planning your day and being sure you can stay within the vehicle limitations.
This relay is extremely popular and, for safety reasons, we are limited to 60 teams. Tiered pricing will be in effect until the tier is full or a date change, whichever comes first. Entry is on a first come, first served basis. You are not required to submit your full team roster on registration, just the team captain needs to register initially. We will have roster registration on a separate platform in the spring. You can also purchase cancellation insurance during the registration process if you can't compete for some reason. As we expect a sell out, we will start a waiting list once the race is full.
Please note: race registration fees are non-refundable and non-transferrable. You will be given the option to purchase cancellation insurance when you register online.
Bear spray requirements.
Parks is now requiring all runners to carry bear spray from the beginning of leg 3 to the end of the race whilst running, although we're recommending you just start with it at leg 1. Not every person needs to purchase bear spray – you can pass it from runner to runner at each relay station. However, if you will be utilizing the forced starts on leg 8 and/or 10, you'll need to be sure that those runners have their own bear spray as they won't be "tagged" by the previous leg runner. For example, start your leg 1 runner with the bear spray which can then be passed all the way through to leg 7. Then make sure your leg 8 runner has spray who can then pass it to leg 9. Your leg 10 runner will need their own spray. So, three cans of spray for a team that will be in the forced starts. Teams that know they won't be in the forced starts will only need one can of spray.
Please also be aware of the forced starts on earlier legs that some teams will get caught in. If you will be caught in the forced starts before leg 8 then you'll need two cans of bear spray for your team to pass forward.
Check out this video on the use of bear spray. https://www.youtube.com/watch?v=VDgBY2PbnO4
Check out our  K-100 video by

clicking here.

  Don't miss out on the fun in 2022.