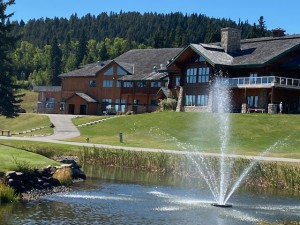 Saturday, October 15, 2022
Wintergreen Golf & Country Club, Bragg Creek
10:00 a.m.
We are having so much fun doing Ekiden at Wintergreen. With the Notorious P.I.G. food truck on site to feed y'all and Tool Shed beer available it's turned into a great day of running and socializing. Join us for the best tail gate party ever!
Ever wondered what it's like to run 18 holes of golf without having to actually hit a little tiny ball with a stick? You'll find out on October 15! We'll be utilizing cart paths around the golf course and trails over what used to be the ski hill!
Golf course route map is here.
Route: We've used a combination of golf cart path, Wintergreen access road and the old ski hill to give you five different routes all with their own challenges. Leg 2 and 3 runners will climb the old ski hill along the chair lift line to the top (yup, the chair lift is still there). It is a 1km tough climb so be prepared. The golf course is built on a slope so all legs will have some elevation change along the cart path. The cart path is 20% asphalt and 80% packed gravel path – very nice to run on. The approach to the ski hill is a dirt service road, the climb is single track and the descent is double track trail. With adding to leg 2 and 4 we are able to get closer to the traditional Ekiden distance of 42.2km
Race information: With any luck, by October 2022 we won't need to implement any Covid protocols. We will still gather in the parking lot with indoor space for washrooms only keeping that great vibe going! So plan for an amazing tail gate party along with running!
Please read this information package for all race day info. This information will be updated for 2022 closer to race day. 
Food and beer: The award winning Notorious P.I.G BBQ truck (from Tool Shed Brewery) will be coming out to Wintergreen to feed all of our runner! Lunch is included in your entry fee. We will also have beer available for purchase for $5.
Race package pick up: Will be at Strides Running Store Marda Loop on Thursday, October 13 from 4:00 – 7:00. Only one person from a team needs to attend to collect your package. Packages can also be taken to the Strides Fish Creek location but you must notify us before Thursday, October 14.
What is Ekiden?
Unfamiliar with the term? Then you are likely unfamiliar with the ancient Japanese system of mail delivery. Couriers would run from station to station in a task called Ekiden.
These days, Ekiden is one of the most popular relay races in the world spreading out from Japan to Australia, Korea, New Zealand, Spain, Netherlands, China, Germany, France and Canada. Distances for each Ekiden are different ranging from 5km to 200km, and teams obviously vary accordingly. One thing that is the same at every Ekiden though is the unforgettable feeling of community.
The Wintergreen Ekiden Relay is a five leg race with distances varying from 5.2 km to 9 km and an overall total equal to a 38km. Each leg starts and finishes at the Wintergreen Golf & Country Club. The race is run relay style with only one team member running at a time. So gather five of your best running friends and join us for a scenic fun, memorable running experience around the beautiful Wintergreen golf course and the trails on the mountain.
Try the solo division! Tackle the 41km distance on your own. We'll have a special finishers medal for anybody brave enough to tackle this adventure and complete it within the 4 1/2 hour cut off time.
Please note: race registration fees are non-refundable and non-transferrable. You will be given the option to purchase cancellation insurance when you register online.