Sunday, November 12, 2017
Eau Claire Market, Calgary, AB
Online registration is now closed but a few spots remain. You can still register at race package pick up on Thursday or Saturday.
Fundraising for MitoCanada
When you register for the Last Chance Half Marathon online, you can also choose to make a donation directly to our charity partner, MitoCanada. Or, you can send the link to friends and family who can sponsor you. Just follow the directions on the Race Roster registration page.
In 2016, Last Chance Half runners raised $2200 directly for MitoCanada. Thank you! To date in 2017 you have raised $2500 and counting!
Race package pick up
Race package pick up is at Gord's Running Store (919 Centre St N) on Thursday, November 9 from noon until 7:00. Please note, this is different from the usual Saturday pick up as Gord's Store is closed in honour of Remembrance Day. We are adding a short package pick up on Saturday, November 11 from 3:00 – 5:00 at Stride's Running Store Marda Loop (3558 Garrison Gate). This extra pick up is intended for runners coming from out of town who will not be in Calgary for the Thursday pick up. Please pick up your package at Gord's on Thursday if you are a local runner.
General information
We all know that the running season doesn't end when the snow flies, but it seems like races do!
Be There Races presents the 13th annual Last Chance Half Marathon. This is your opportunity to get one final race in before everyone retreats to their treadmills.
The race is chip timed and all participants receive a finishers medal, brunch at The Garage and a tri blend t-shirt.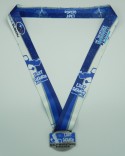 In conjunction with Impact Magazine, we offer $500 in prize money to the top man and top woman. There are also medals for the top three men and women in each 10 year age group.
NEW: $100 prize money for the top master's 50+ man and woman courtesy of Startline Timing!
Be sure to look for our friends from EnduraHealth after the race inside Eau Claire. They will be
providing complimentary post race massages.
Important race day information
Download all of the information you need for race day here.